Nikole michelle who was a minister of God recently gave up on her faith to become a model and dancer.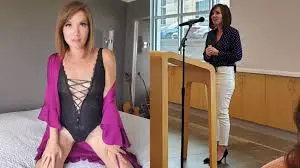 The 36 year old Nikole who is a mother of three said she had always wanted to be a dancer but she was raised in a Christian family which prevented her from achieving her dreams. Nikole got married and became a pastor, however her marriage broke up and her ex- husband joined an evangelist mega church in Saint Paul, she had some revelations that triggered her move toward denouncing her faith.
According to her she was old enough to choose what she loves and no one could stop her.
Her move amazed thousands of her Christian fans, News has it that she now sells X-rated photos and videos.
Michelle who has now relocated to Los Angeles and divorced her husband says she is "living the happiest life ever"