Speaking in a viral video, the renown Ghanian Televangelist, His Eminence Archbishop Duncan Williams broke silence and recounted the story behind him losing his three (3) fingers, before he got born again and started seeking God.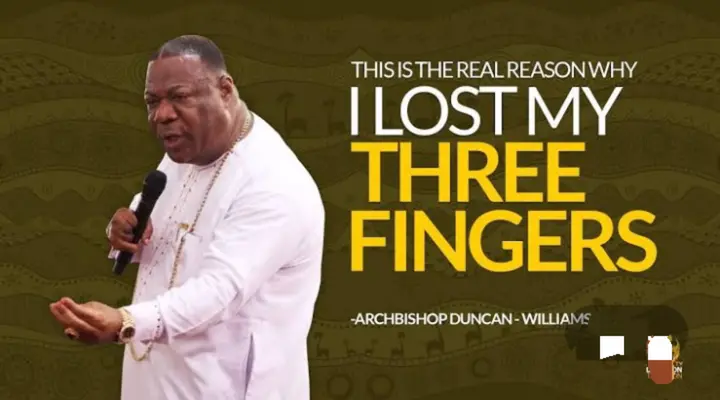 Here is everything Archbishop Duncan Williams said in the viral video:
"I visited certain shrines and got to some places seeking for help, and I remember I went to a particular place and the guy came out and said, "What do you want?" And I said, I came for help. He said, "Where did you come from?" I said Accra and then he shook his head, manifesting and did some things, then he said, "I can't help you" I said, what do you mean? And he told me, "Young man, as for you the only one who can help you is the man up there (He's referring to God)" and he said, go. So he sent me away.
I went to so many places and those were negative exposures. I shouldn't have gone to those places, whatever I was running from was after my life. So I went to Satan's ambassadors, I played into their hands and I believe that it opened me up for evil spirits to accessed me. There was a particular time I started hearing voices. In those days, we didn't have standard generator, I lived with my dad and a voice commanded me to lit the candle on the table in my room. So I lighted the candle, then the voice said, "Placed your right hand on the flame" and I did.
It was like I was captured and overpowered. When I placed my hands on the flame and the voice said, "Don't take your hands off till I command you to do so" and I felt like I lacked the power and the ability to resist the influence and the power of the voice and to take my hand off, and the pain was unbearable to the point that I had to scream for help. Not too long after that, they broke the door to rescue me but by the time they came in, I've lost all my three fingers, everything was gone. I had to be admitted for four months and I had all kinds of encounters there. It was there I had an encounter that got me born again and I started seeking, searching and asking question, then I came to the revelation that I was born for a purpose