He just wanted to pray, he said, because his mosque was closed. Police intervened, which some may consider "Islamophobic," and that was that. What do you think might have happened if a Christian went into a mosque and began loudly praying Christian prayers? Aside from the possibility that he might not have emerged from the mosque uninjured, the establishment media would be full of stories about Christian aggressiveness and intolerance. But you won't hear anything about this except here.
The djellaba is a long robe that is commonly worn in North Africa.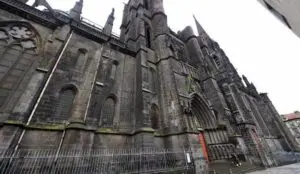 "He chants prayers and songs in Arabic in Clermont-Ferrand cathedral," translated from "Il entonne des prières et des chants en arabe dans la cathédrale de Clermont-Ferrand," by Olivier Choruszko, November 19, 2020 (thanks to Mason):
Was he in the wrong place of worship? The police intervened this Thursday, in the middle of the morning, in the cathedral of Clermont-Ferrand, while a man in a djellaba was performing Muslim prayers.
The presence of law enforcement around Clermont-Ferrand cathedral intrigued or even worried more than one passer-by this Thursday in mid-morning. Fortunately, nothing serious happened.
The police intervened around 10:30 am, as a man dressed in a djellaba was singing prayers and songs in Arabic in the sacred Catholic enclosure.
It was the soldiers of Operation Sentinel, on patrol in the area, who were alerted after hearing, coming from inside the monument, a religious incantation that was not at all like Ave Maria…
The man in the djellaba, who showed no signs of aggression, reportedly told police that he had come to pray in the cathedral because the mosque was closed. They verified his identity. His action not constituting an offense, he was left free