One of the major controversial topics in Christendom is the issue of Christian women covering their hair, as a lifestyle. Speaking in a viral video, is the renown General Superintendent of the Deeper Life Bible Church Pastor W.F. Kumuyi finally bringing balance to the issue of Christian women covering their hair. 
Here is everything Pastor Kumuyi said in the video:
"Submission is not bad, it's not a negative word. There are some very good natured sisters, mothers, wives and woman, they go along with everything until we mention the word submission. They don't like that word because it gives them an idea of slavery. In life, we have to submit to those ahead of us. Jesus Christ was submitted to the Father as a son not a slave, and everyman as a child of God should be submissive to the savior in gratitude. Look at what Christ has done for me, so because of that I submit to Him. In every area of life that brings productivity, fruitfulness, joy, agreement and everything is working well, there must be submission. So, ladies, wives, sisters and mothers, submission is a good word. Though you are not a slave but a child of God, God still demand submission to the husband. The Bible says in 1Corinthians11v3, "The head of everyman is Christ and the head of women is the man," in particular that's your husband.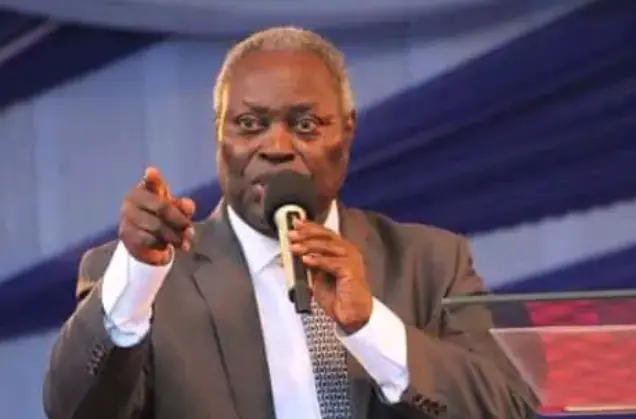 Then in 1Corinthians11v5, it says "Every woman that prays or prophesy with her head uncovered, dishonors her head." So, imagine somebody is coming to our Church and she happens to be a lady and as we see her entering by that door and her hair was not covered, and somebody run there and bring out an extra scarf and give her to cover her head. Well, to start with, we don't know whether she's born again or not. We don't know whether she knows any thing about prayer or not. We don't know whether she knows anything about prophesying or not, and we told her to stay by the door, we delay her there and insisted she must cover her hair, but the Bible says, it is every woman that pray or prophesy with her head uncovered that dishonor her head. So, we have people that will not even allow these ladies to get save, to understand the word of God and they confront them out there, before they even entered the Church, and the ladies are not praying, they don't know how to pray. They're not prophesying, they don't know how to prophesy but we impose on them to cover their head and they vow never to enter our Church again.
You see, such happen because we do not understand how to position the word of God, and we end up driving a lot of people away. The scripture says, the purpose of covering the hair for the woman is when you pray or prophecy. There are sisters, I would say at least cover their hair 20hours everyday. In Church they cover, on the streets they cover, while eating they cover. Anything they did they cover their hair. Anywhere they are going, even inside their own room they cover their hair. Though they are not praying or prophesying, but they cover their hair all the time. Eventually, the hair because of heat, it would be emitting odour. There are some people even when they are taking their bath, they cover their hair. Now, you put yourself in such bondage because you never read the word of God, yet the Bible says, every woman that pray or prophesy with her head uncover, dishonors her head."